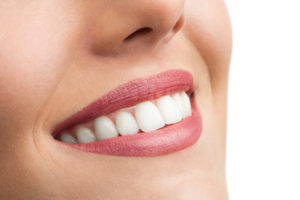 Do you usually enjoy a cup of coffee in the morning? Of course! Who doesn't? While a little caffeine can help you ease into the day, over time coffee and other dark beverages and foods can stain your teeth. Fortunately, a cosmetic dentist can help you brighten your smile – and not just with professional teeth whitening treatment. Keep reading to find out why porcelain veneers may be an excellent way to rejuvenate your smile.
What Are Porcelain Veneers?
Veneers are thin porcelain shells that are bonded to the front of teeth to conceal minor dental imperfections, such as stained or chipped teeth.
This common cosmetic dentistry procedure can typically be completed in just two trips to a dentist. During your first visit, a thin layer of enamel – less than a millimeter – will be removed in order to make space in the mouth for veneers. Impressions of your teeth will be made and sent to a high-quality dental lab, where your veneers will be custom-crafted.
After a few shorts weeks – during which you will wear temporary veneers – you will return to your dentist's office for the final placement. Once your veneers are securely bonded to your teeth, you can immediately walk out of the door and get on with your day!
What Are the Benefits of Veneers?
If you are searching for a brighter, more beautiful smile, look no further than porcelain veneers! Veneer treatment is an excellent way to whiten teeth while concealing a variety of dental flaws. Major benefits of porcelain veneers include:
Brighter Smile – With the help of your dentist, you can choose veneers that are several shades whiter than your natural teeth to brighten your smile!
Stain Resistant – Veneers are naturally more stain-resistant than natural teeth and will not easily darken due to coffee, wine and other dark foods and drinks.
Long-Lasting Results– With proper care, veneers can last from 10 to 15 years! Compare that to the results of teeth whitening, which typically only lasts up to 3 years.
Fast Treatment – Once the placement procedure is complete, you can return to your daily routine – and start showing off your rejuvenated smile!
Am I a Good Candidate?
If you are in good oral health and want to improve the way your smile looks, you are likely a good candidate for porcelain veneers. Veneer treatment can address a wide variety of common dental imperfections, such as:
Stained, darkened or discolored teeth
Chipped or broken teeth
Gapped teeth
Slightly misaligned or misshapen teeth
Undersized teeth
If you are tired of looking into the mirror and seeing a yellow or darkened smile in the reflection, talk to a cosmetic dentist today! Porcelain veneers may be the right treatment to rejuvenate your smile and help you reclaim your confidence.
About the Author
Dr. Gretchen Anjomi is the cosmetic dentist Newton residents trust when it comes to achieving the beautiful smiles of their dreams. The proud Tufts University School of Dental Medicine graduate provides a full range of cosmetic dentistry treatments, including porcelain veneers, dental bonding and professional teeth whitening. To learn more about porcelain veneers and other forms of cosmetic dentistry, visit the Newton Corner Dental Care website or call Dr. Anjomi at 617-332-6232.