Dentures – Newton, MA
Regain a Gorgeous Set of Pearly Whites
Has tooth loss made it harder for you to enjoy certain everyday tasks like speaking and eating? If so, you're far from the only one. About 40 million adults in the United States are missing all of their teeth, according to the American College of Prosthodontists. Rather than suffer through these inconveniences, Dr. Gretchen Anjomi can rebuild your smile with a personalized denture. To learn more about how we can help you regain a gorgeous set of pearly whites, contact Newton Corner Dental Care today!
Why Choose Newton Corner Dental Care for Dentures?
Dental Implant Placement Provided In-House
Friendly Team That Prioritizes Your Comfort
Latest Technology Creates Lifelike, Durable Restorations
Full Dentures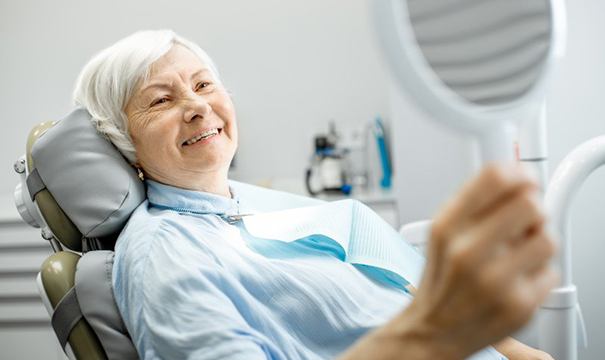 For patients who have lost all of their teeth on one or both arches, we often recommend a full denture. An entire set of custom-made replacement teeth sit atop a pink acrylic base that's specifically designed to fit your unique mouth. The artificial teeth are made of high-quality materials that mimic the size, shape, and color of your original teeth.
Full dentures are removable for easy cleaning. Since they are made to fit you perfectly, you can count on them staying stable due to natural suction and sometimes a bit of denture adhesive.
Partial Dentures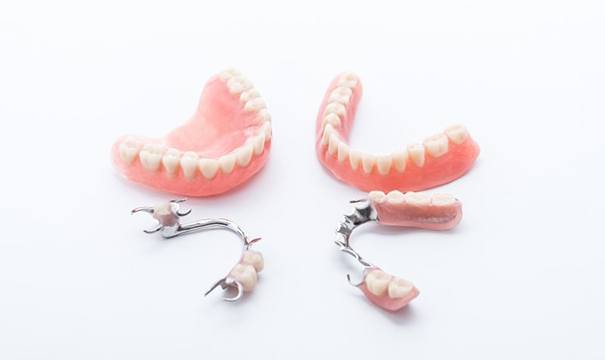 We normally suggest a partial denture for patients who have lost several teeth in an arch. Like full dentures, partials feature false teeth attached to a gum-colored base. The primary difference is that this base connects to a metal framework that discreetly fits behind your remaining teeth to seamlessly fill the gaps in your grin.
Implant-Retained Dentures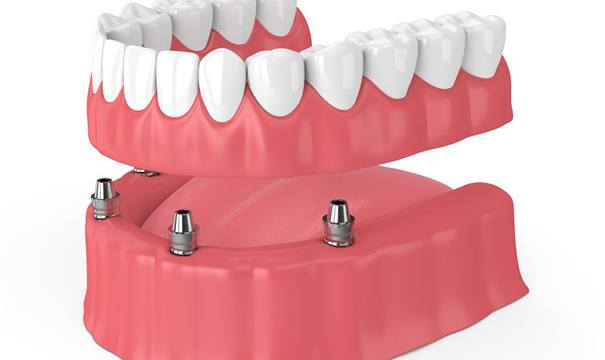 If you want a more stable and longer-lasting option, ask us if you're a good candidate for an implant-retained denture. These replacement teeth are secured by titanium posts that have been surgically placed under your gums and fused with your jawbone. Therefore, your teeth won't shift around quite as often. Plus, Dr. Anjomi can place dental implants in-house, saving you money, time, and stress by not having to visit an unfamiliar outside specialist.
Caring for Your Dentures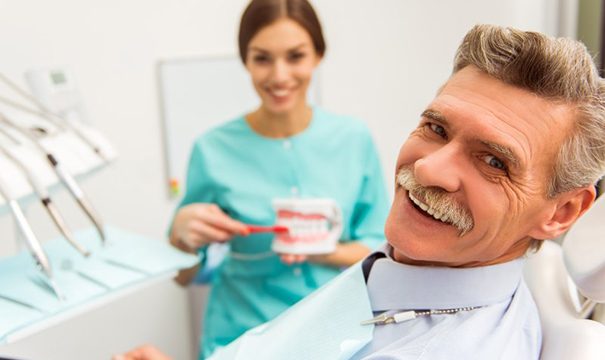 Even though your dentures are cavity-proof, you'll still need to take care of them to keep them in good condition. To do this, buy a denture cleanser and denture toothbrush to scrub plaque and food particles off of them daily. This should prevent plaque from building up and contributing to staining as well as gum infections.
At night, soak your dentures in a special solution or room-temperature water to clean them and maintain their shape. If you have a partial, be sure to brush and floss your remaining teeth. Lastly, don't forget to still visit us for a checkup twice a year!