Implant-Retained Dentures – Newton, MA
Reclaim a Full, Confident Smile
Are you missing most or all of your teeth and are tired of feeling embarrassed? Or do you currently wear traditional dentures and feel frustrated when they frequently slip out of place? Dental implants from Newton Corner Dental Care can help! Dr. Gretchen Anjomi has the expert knowledge to restore your complete smile and your confidence with implant-retained dentures in Newton.
How Do Implant-Retained Dentures Work?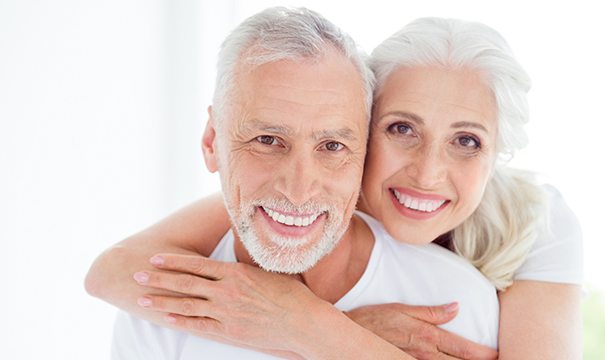 Traditional dentures stay in place through natural suction or with a little help from a mild dental adhesive. While they certainly can replace missing teeth, this type of dental prosthesis is not the sturdiest or most comfortable option available.
Implant-retained dentures, on the other hand, rely on 4 to 6 small titanium posts that are strategically anchored in the jawbone to stay in place. These implants fuse with the bone through a natural process called "osseointegration" to replace the missing tooth roots and provide maximum support for a set of artificial teeth.
Am I A Candidate for Implant-Retained Dentures?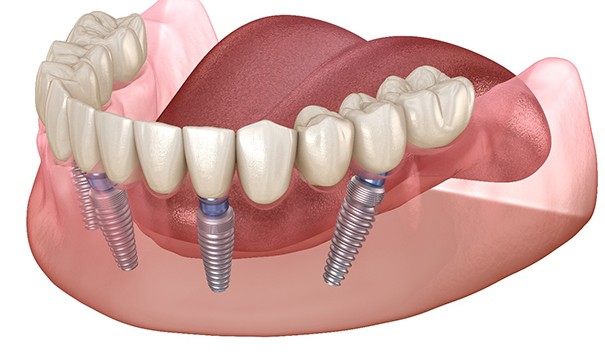 With a success rate of up to 98%, dental implants are one the most reliable tooth replacement solutions available today. If you are missing most or all of your teeth, you are likely a good candidate for dental implants in Newton. To help ensure successful treatment, all candidates should have:
Heathy mouth and gums
Strong and thick jawbone
Excellent oral hygiene habits
The Implant-Retained Dentures Procedure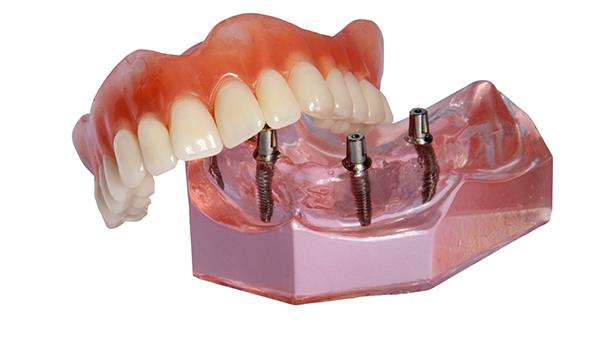 While many dental practices must send their patients to an outside specialist for dental implant placement, Dr. Anjomi can provide start-to-finish implant treatment right here at our office in Newton! Here is what you can expect when you come to Newton Corner Dental Care for implant-retained dentures:
During the initial consultation, Dr. Anjomi will carefully review your oral and general health and discuss your smile goals. If you have any remaining damaged teeth, extraction may be recommended.
Once you are ready for the placement procedure, Dr. Anjomi will surgically insert the dental implants into the jawbone beneath the gums.
Next up is the healing process, which typically lasts for several months. During this period, the implant posts will fuse with your jawbone and create a stable foundation for your new artificial teeth.
You will then return for a second minor surgery to attach abutments, important connector pieces, to the implant posts.
Once you are fully healed, Dr. Anjomi will attach your custom-designed dentures to the implant abutments and hand you a mirror so you can admire your newly restored smile!
Benefits of Combining Dentures & Dental Implants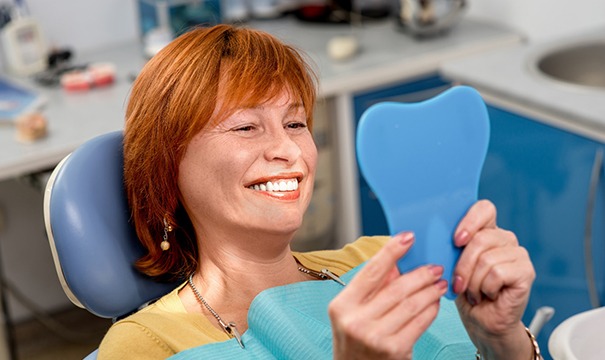 Why not just wear traditional dentures? Combining dentures with dental implants delivers clear benefits that traditional restorations just cannot match. For example, because implant-retained dentures are securely anchored in your jaw, you will never have to worry about your false teeth slipping out of place while speaking or eating. Instead, you can confidently chat with coworkers, laugh with friends and eat all your favorite foods! In addition, implant-retained dentures look more natural than their traditional counterparts because they are secured below the gumline, just like real teeth. In all likelihood, only you and your implant dentist in Newton will know that you have restored your smile with implant-retained dentures!