Implant Dentures – Newton, MA
Reclaim a Full, Confident Smile
Missing most or all of your teeth can feel quite embarrassing. After all, a smile filled with gaps isn't the most pleasant sight. Still, perhaps you don't think traditional dentures are the best choice. Fortunately, you could always add dental implants into the mix. Implant dentures from Newton Corner Dental Care are a highly secure and permanent option. With their help, our team can restore your grin and self-confidence! To learn more about them, keep reading or call us for details.
What are Implant Dentures?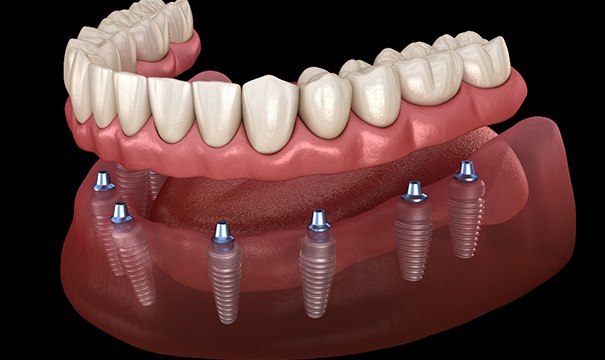 As you might know, standard dentures stay in place through natural suction or dental adhesives. While often effective, though, they sometimes slip or fall from your mouth. These prosthetics aren't always sturdy or comfortable either.
Given such facts, implant dentures are a popular alternative. These models rely on 4-6 dental implants – small titanium posts – strategically placed in the jawbone. As the posts fuse with surrounding bone tissue, they replace missing tooth roots and support artificial teeth.
Fixed/Permanent Implant Dentures
As their name implies, fixed implant dentures are designed to be permanent. Patients can't simply take them out as they please. Instead, only a qualified dentist can remove them.
The biggest perk of fixed implant dentures is how lifelike they are. You can easily care for them as you would natural teeth. That said, they require that you have sufficient jawbone density.
Removable Implant Dentures
Unlike fixed types, removable implant dentures can be taken out as needed. This feature means the patient can clean the prosthetics' underside.
Of course, this denture is firmly rooted via dental implants. It only connects to the latter, though, via clips (bar-retained) or ball sockets (ball-retained). It's thus better suited for those with lower jawbone density. (The appliance requires fewer implant posts, usually only 2-5.)
The Implant Denture Process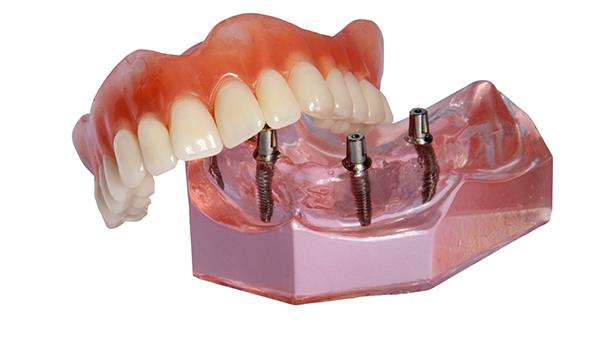 Right after your consultation, our practice can proceed with implant treatment. Dr. Anjomi has the training and resources to perform the placement in-office. (However, you may need bone grafting and similar prep work first.)
For the actual implant denture process, Dr. Anjomi will follow several steps. For starters, she'll carefully insert the implants into the relevant jaw sockets. Following your recovery, she'll place metal connectors – abutments – on the posts. Lastly, Dr. Anjomi and her team will design and attach the final denture to the implants through the abutments.
Am I a Candidate for Implant Dentures?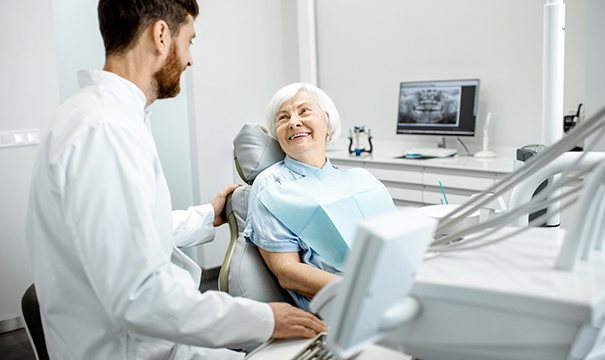 With little exception, nearly any adult missing all the teeth along an arch qualifies for implant dentures. Being a good treatment candidate doesn't require much besides major tooth loss. Even so, other qualities a candidate should have include:
A lack of pre-existing oral health problems
A desire for more permanent and replacement teeth
High jawbone density that can support osseointegration
Commitment to good oral care
Benefits of Combining Dentures & Dental Implants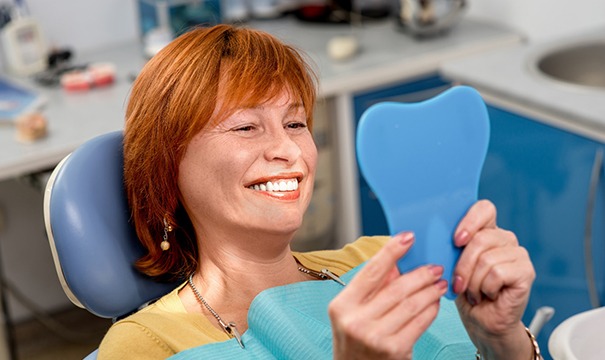 Implant dentures have benefits that can't be matched by standard ones. The most noteworthy of these are:
Lifelike Results – Implant dentures both look and act like natural teeth.
Better Eating & Speaking – In contrast to regular dentures, those retained by implants don't slip or shift. That means they're great at helping you speak and eat.
A Younger Face – By preventing jawbone loss, implant dentures make your face look younger.
Easy, Long-Lasting Results – Regular brushing and flossing can maintain implant dentures for 30 years or more.