Dental Financing with Wisetack—Newton, MA
Affordable Dentistry You Can Get Today
Wisetack allows you to quickly and easily finance your dental care so you can get the procedures you need today and pay over time with little-to-no interest. This is an excellent option for patients without dental insurance as well as those who want procedures (i.e. cosmetic dentistry) that aren't covered by most plans. We've partnered with Wisetack because it offers a simple and straightforward solution without the pitfalls commonly associated with third-party financiers.
How Does Wisetack Work?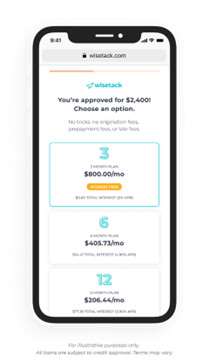 All you have to do is enter in some basic information (such as your name and address), and Wisetack will almost instantly give you multiple offers for payment plans that can span anywhere from three to 24 months*. You select the one that works best for you, and you'll use it to pay for 100% of any of the services we offer. It can all be managed through an app on your phone, and the interface is bright, clear, and easy to follow.
In fact, you can prequalify right now just by clicking here .
*All financing is subject to credit approval. Your terms may vary. Payment options through Wisetack are provided by our lending partners . For example, a $1,000 purchase could cost $45.18 a month for 24 months, based on a 7.9% APR, or $333.33 a month for 3 months, based on a 0% APR. Offers range from 0-35.9% APR based on creditworthiness. No other financing charges or participation fees. See additional terms at http://wisetack.com/faqs .
The Benefits of Wisetack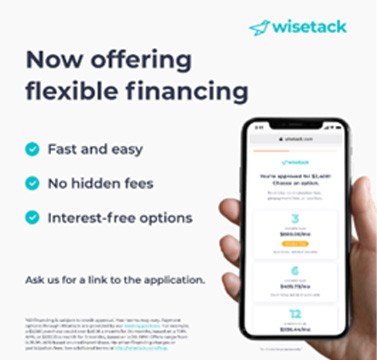 Get to choose from several options
Easy sign-up and quick approval
Interest rates as low as 0% APR*
Finance treatments up to $15,000*
No late fees
No hidden fees
No paperwork
No impact on your credit
Can be used for cosmetic procedures, dental implants, and more