Replace Missing Teeth – Newton, MA
Rebuild Your Smile & Your Confidence
Missing teeth are a problem that affects well over 120 million Americans, making it more difficult for people to speak, chew, and smile every single day. If this group includes you, know that closing any gaps is relatively easy when you partner with Newton Corner Dental Care. Dr. Anjomi is able to provide a variety of custom-made restorations that can bring back any number of missing teeth, renewing your appearance and oral function at the same time. She'll design a solution just for you to replace missing teeth in Newton, MA, and you can start rebuilding your smile by giving us a call today.
Why Choose Newton Corner Dental Care to Replace Missing Teeth?
Start-to-Finish Dental Implants Available
Latest Technology Creates Lifelike, Durable Restorations
Friendly Team that Puts Patient Comfort First
Dental Bridges
Dental bridges in one form or another have been around for a very long time, and today, they still offer one of the quickest and most effective ways to replace one to three teeth in a row. The prosthetic is secured using dental crowns fitted over the teeth on either side of the gap. These are bonded to additional crowns that fill in the space. Bridges not only enable a patient to eat their favorite foods again, but they also smile with ease, as tooth-colored materials help create a seamless, natural appearance.
Dentures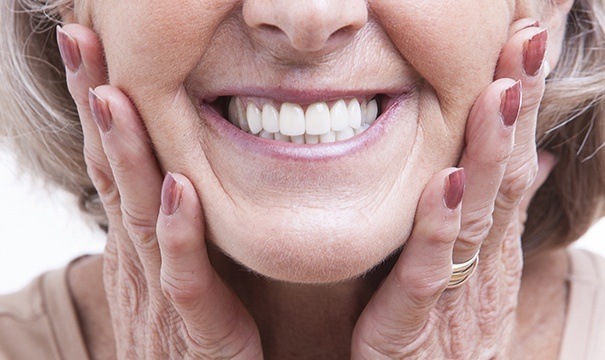 For patients missing several or even all of their teeth, the right denture can bring them all back at once, dramatically improving someone's appearance and oral health. A partial denture can be fitted between any remaining teeth to complete the smile like the last piece of a puzzle, while a full denture placed directly on the gums can restore the entire upper or lower row. Our dentures are custom-made using high-quality acrylic and ceramic materials so they look great, fit even better, and can be trusted to last.
Learn More About Full and Partial Dentures
Dental Implants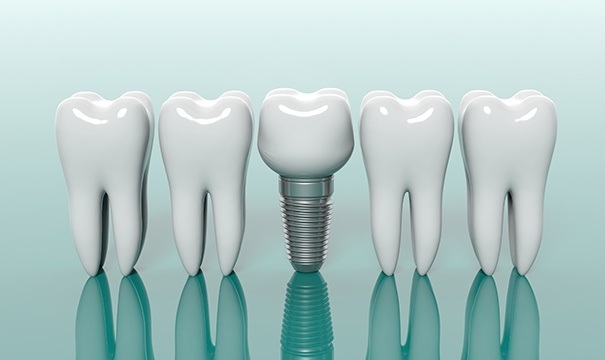 With a dental implant, not only is the visible part of a tooth restored, but the root structure below the gum line is brought back as well. This gives a patient's new tooth the same strength and stability as a natural one, creating a prosthetic that can be trusted to never slip or slide unexpectedly. Implants can be used to restore one, multiple, or even all of the teeth, and when placed by a specially-trained dentist like Dr. Anjomi, they can be trusted to last for about 30 years or more.