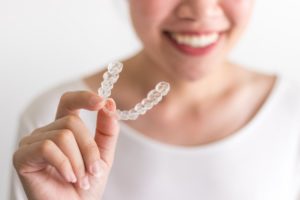 With its seamless appearance, removeable trays, and lack of dietary restrictions, Invisalign is a much more convenient way to straighten your teeth than traditional braces. That said, you'll still need to follow some rules to make sure your treatment proceeds without a hitch and doesn't get delayed. To make sure you enjoy a fully straightened smile as quickly as possible, keep an eye out for these five common ways that you may accidentally ruin your Invisalign treatment.
1. Not Wearing Your Aligners for 22+ Hours a Day
Invisalign only works when the trays are actually in your mouth. If you don't wear them for at least 22 hours a day, your teeth won't move as quickly as originally planned, so your treatment will take longer. Essentially, you should only remove the aligners for quick meals or snacks and for brushing or flossing your teeth.
2. Eating Too Much Sugar
It's no secret that overindulging in sweets causes cavities. Getting fillings to address tooth decay can prolong your Invisalign treatment, so try to take it easy on the sugar. You can enjoy sugary items every now and then, but when you do, make sure to brush and floss before putting your aligners back over your teeth.
3. Not Storing Your Aligners Correctly
While it may be the easy thing to do, never place your aligners on a plate or napkin when you're eating. It makes it all too easy to lose or even throw away your trays! Instead, keep them in their designated storage case during meals and snacks. After you're finished, remember to clean your trays (as well as your teeth) before reinserting them into your mouth.
4. Cleaning Your Trays with Harsh Chemicals
You should never use bleach or other household cleaning products to disinfect your Invisalign trays. These solutions can cause the plastic to warp, which basically renders that set of aligners useless and derails your treatment. For that same reason, don't use hot water to clean them – only lukewarm or cool water. Several times a day, be sure to run your aligners under water and gently scrub them clean with a soft-bristled toothbrush to remove built-up food debris and bacteria.
5. Switching Aligners on the Wrong Day
Each pair of aligners in your Invisalign treatment is designed to be worn for a certain number of days before switching to the next. If you move onto the next set on the wrong day, your teeth aren't shifting in the ways your dentist carefully planned. This could cause problems down the road. Try setting reminders on your calendar for when you need to switch to a new pair of aligners.
With all of the time and money that you're investing into Invisalign, the last thing you want is to throw your treatment off-track. Luckily, you can avoid that by following the tips above!
About the Practice
At Newton Corner Dental Care, Dr. Anjomi and Dr. Vargas are dedicated to providing comfortable experiences while they care for the smiles of families in the Newton, MA community. Both doctors are certified and experienced in Invisalign treatment and would love to guide you every step of the way so that you can enjoy a straight smile before you know it! Learn more by contacting their dental office at (617) 332-6232.