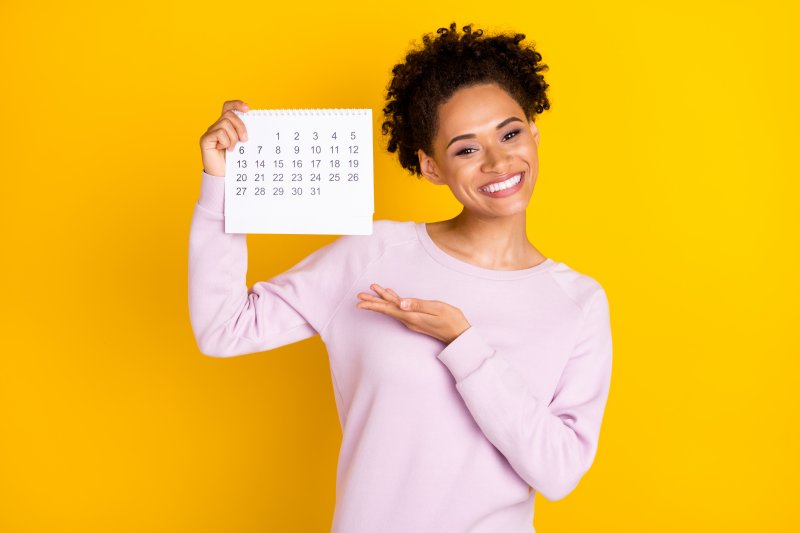 Out of all the teeth replacements, dental implants are considered the gold standard. They are the only option that recreates the entire structure of the lost tooth, from the root up through the crown. But how long can you expect it to last? The answer might surprise you! Here's everything to know so you can get the most out of our smile for as long as possible.
How Long Do Dental Implants Last?
While traditional dentures and dental bridges only replace the shiny white crowns of missing teeth, dental implants replace the entire structure, including the roots! This unique feature gives dental implants unmatched stability and longevity since they have a firm foundation in your jawbone. If they are properly maintained, your dental implants can last a lifetime! However, the lifespan of your newly rebuilt smile will depend on how well you care for it.
If you neglect to practice great oral hygiene, you could develop a condition called peri-implantitis, which is the leading cause of dental implant failure. This infection in the gums is often the result of bad oral hygiene, and will destroy the connective tissues that help hold the dental implant in place.
Fortunately, easy habits like regular brushing, flossing, and biannual checkups are essentially all that's needed to keep peri-implantitis at bay! The restoration that your dental implant supports, which could be a dental crown, bridge, or denture, will naturally wear down over time and eventually need to be replaced. However, these typically last much longer than their traditional counterparts.
How Do I Properly Care for Dental Implants?
As previously stated, dental implants can last a lifetime with proper maintenance. But what exactly does that mean? Here are some suggestions to help you prolong the life of your dental implants:
Avoid Smoking: Nicotine buildup from smoking negatively influences the blood supply to your gums. This increases your chances of dental implant failure and is often a huge contributing factor when an implant isn't successful.
Maintain Good Oral Hygiene: Even though your replacement tooth isn't susceptible to decay, the tissue around it is more likely to develop periodontal disease than the gum tissue around your natural teeth. As stated above, regular brushing and flossing are a must in order to keep your implants in good shape for a long period of time.
Use Caution: There won't be any food restrictions after your implants have finished healing, but you should still be especially careful when consuming things that are particularly hard or sticky. Do not use your teeth as tools for opening or cutting things because you could damage your implant.
Dental implants are a wonderful tooth replacement option with many benefits. Their lifespan is different for everyone, but with the proper care, they can last for years to come!
About the Practice
Newton Corner Dental Care serves Newton and the surrounding areas through the expertise of Dr. Gretchen Anjomi and Dr. Maria Vargas. With their experience, focus on comfort, and the latest dental technology, they can help you achieve and maintain the smile of your dreams. Their state-of-the-art treatment is available to help with any dental implant needs. For more information about tooth replacements, contact them through their website or call (617) 977-5235.