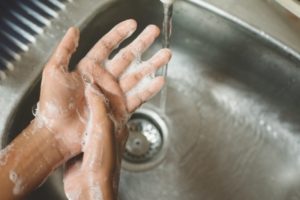 Did you know that dental practices are actually some of the cleanest places in the entire country? This is because they have strict sanitation protocols set in place by the Centers for Disease Control and Prevention (CDC). In the time of COVID-19, these protocols have only become tougher and more strictly implemented. This means if you go in for emergency treatment from your dentist, you shouldn't need to worry about catching the coronavirus. Here are some of the measures your dentist takes to keep their office clean and safe.
Hand Hygiene
The most important way to prevent the spread of germs among dental professionals and patients is by practicing proper hand hygiene. What that means is that your dentist and their staff will wash their hands:
When their hands are visibly soiled
After barehanded touching of instruments, equipment, and other materials that could be contaminated by saliva, blood, or other bodily fluids
Before and after treating each patient
Before putting on gloves and immediately after removing gloves
Whether they use soap and water or an alcohol-based hand sanitizer, dental professionals will ensure their hands are as clean as can be before treating you.
Personal Protective Equipment
Personal protective equipment (PPE) refers to wearable equipment that your dentist and their team wear when treating patients that prevents the transfer of germs. PPE can include gloves, masks, face shields, protective eyewear, etc. Dental professionals wear these materials and change them out or clean them (depending on what type of PPE it is) between patients.
Respiratory Hygiene
Also known as cough etiquette, respiratory hygiene refers to practices that limit the spread of germs through respiratory droplets, which are produced when you cough or sneeze. Your dentist should post a sign on their front door with proper cough and sneeze etiquette, which includes coughing or sneezing into your elbow or a tissue and NOT your hands. They should also provide tissues and receptacles for them to be properly disposed of, as well as hand sanitizer for afterwards. If you are coughing or sneezing, they should offer you a mask to wear while in the waiting room.
As you can see, dental practices maintain high levels of cleanliness normally. However, during the time of COVID-19, they take extra precautions to ensure their offices are safe and clean for each and every patient. You shouldn't have to worry at all about catching the coronavirus from your dentist's office.
About the Author
Dr. Gretchen Anjomi has more than 20 years of experience in the dental field so far since achieving her Doctor of Dental Medicine at Tufts University School of Dental Medicine. Her practice, while closed for all patients except those with dental emergencies, follows all the CDC-mandated protocols to keep her office clean and safe for all patients. If you find yourself suffering through a dental emergency, don't hesitate to contact Dr. Anjomi at (617) 332-6232.