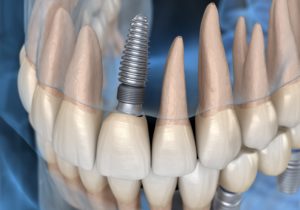 Despite the latest improvements in dentistry, tooth loss is still a common problem. In fact, 120 million Americans live with at least one missing tooth. Nowadays, you have more options than ever to rebuild an incomplete smile. As an alternative to traditional solutions, 500,000 people per year are turning to dental implants. Your dentist can replace your missing tooth with the next best thing to your real one; however, it requires an oral surgery. As a result, not everyone is a candidate for the procedure. Don't worry, here's what you need to know to determine if dental implants are right for you.
What is a Dental Implant?
A dental implant is the only prosthetic to replicate the entire structure of a tooth, including the root. A titanium implant post is surgically placed into your jawbone to act as a new root. This stimulates your jaw to encourage bone growth.
Through a process called osseointegration, your bone fuses to the post. After your jawbone has healed, an abutment is placed on the post to connect your custom-made restoration. It's made to match your natural teeth to blend in seamlessly when you smile.
A dental implant has over a 95% success rate and can last for decades with the right foundation and aftercare. As a result, you'll need to undergo a thorough consultation to ensure you have minimal risk factors for complications, like bone loss.
Am I a Candidate for Dental Implants?
Generally, if you have good oral and general health, you're a candidate for dental implants. No matter if you're missing one tooth, multiple teeth, or an entire arch, dental implants can restore your smile. Besides a visual examination, your dentist will also take a CT scan. This allows them to see your oral structures in their entirety to look for any hidden concerns, like bone loss or infection. Based on the results of the CT scan, you might need additional treatments before your placement surgery, like tooth extractions, periodontal therapy, or bone grafting.
In addition to your oral health, your dentist will also review your medical history, including any medications you're taking. If there are any concerns over your body's ability to heal or fight infections, you might not be a candidate for dental implants.
Your dentist will also recommend you don't use tobacco or drink alcohol in excess. Both can increase your risk of preventable complications, so it's best to avoid them altogether.
Complete Your Smile Today
If you're ready to overcome the challenges of tooth loss, take your first step toward a complete smile. See if you're a candidate for dental implants today.
About Dr. Gretchen Anjomi
Dr. Gretchen Anjomi has provided comprehensive dental services for over 20 years. She not only earned her dental degree, but she also completed advanced training at the prestigious Pankey Institute. She's also a member of various dental organizations, including the American Dental Association. Dr. Anjomi can treat even the most complex oral health issues, like tooth loss. If you're interested in dental implants, contact our office today to schedule your consultation.