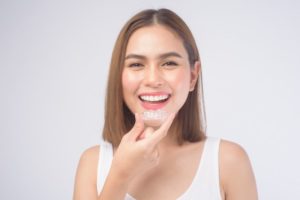 Invisalign has become an increasingly popular option to get the smile you've always wanted. One of the reasons for that is the discreet appearance it offers. The clear aligners go virtually undetected by other people and allow for a professional, metal-free appearance, all the while straightening your pearly whites. But there are other advantages to this orthodontic treatment besides the obvious cosmetic appeal. Here are five other benefits of Invisalign!
#1. It Is a Removable Orthodontic Treatment
Unlike traditional metal braces that are semi-permanently attached to your teeth the entire treatment, Invisalign uses a series of removable aligners to move teeth into a more desirable position. Each set of clear aligners is worn for a predetermined amount of time (usually two weeks) to apply constant pressure in order to guide your teeth. Once you have completed the allotted time for one set, you advance to the next phase in the series.
#2: You Can Enjoy All Your Favorite Meals with Invisalign
Due to the removable function of Invisalign, you can enjoy all of your favorite foods throughout your treatment process! Traditional orthodontics requires you to be mindful of sticky or hard textures, which are hard to remove from the metal pieces. With Invisalign, you will remove your aligners before you eat and drink anything other than water. As long as you brush and rinse both your trays and your teeth after eating and before placing them back in your mouth, there are no food restrictions!
#3: It Is Quicker & Much More Comfortable
Traditional metal braces can often have sharp, poking wires or brackets that can cause irritation to the soft tissues in your mouth. Clear aligners, however, are made from thin, smooth biocompatible plastic. This allows them to glide easily past your cheeks, tongue, and lips for a more comfortable fit. Additionally, people who undergo Invisalign treatment are often able to straighten their smiles in much less time than metal braces.
#4: You Can Maintain Your Oral Hygiene Easier
Part of any orthodontic treatment is to maintain good oral hygiene throughout the process. Unfortunately, this can be difficult with metal braces since the various wires can get in the way of effective brushing and flossing in between your teeth. With Invisalign, you have easy access to fully clean your pearly whites when you remove them.
#5: It Requires Less Time at Orthodontic Checkups
Metal braces will require you to visit your dentist more often, especially when you need to have them tightened, which is what allows your teeth to move into alignment. However, this process is eliminated with Invisalign. The predesigned series of aligners are all given to you at the beginning of your treatment. You will just need to visit your dentist at various times to check for steady process in your treatment.
As you can see, there are more benefits to Invisalign other than just the clear aligners. These advantages are another bonus to have on the road to your straighter, beautiful smile!
About the Practice
Newton Corner Dental Care serves Newton and the surrounding areas through the expertise of Dr. Gretchen Anjomi and Dr. Maria Vargas. With their experience, focus on comfort, and the latest dental technology, they can help you achieve and maintain the smile of your dreams! They are proud to offer a variety of orthodontic services, including Invisalign. To schedule a consultation, contact them through their website or call (617) 332-6232.