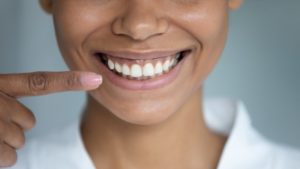 Do you dream about having straighter pearly whites? Modern technology has made it more possible than ever to fix crooked, gapped, or overlapped teeth without having to wear the clunky metal braces of yesteryear. You can get the smile you've always wanted with two effective and long-lasting options: veneers and Invisalign. Here are the pros of each treatment and which one would possibly be best for you.
The Pros of Veneers for Treating Misalignment
Veneers are a popular cosmetic dental treatment that uses ultra-thin shells of dental-grade porcelain to cover the surfaces of teeth. They are known for their ability to fix the color, size, and shape of your pearly whites. The process requires your dentist removing a small amount of your enamel (about the thickness of a contact lens) so the porcelain shells will fit perfectly over your teeth. After being permanently bonded to your treated teeth, you can expect your smile to be transformed into a straighter and picture-perfect beam! The entire procedure can also be completed in just a few weeks.
The Pros of Invisalign for Treating Misalignment
Invisalign is one of the most popular and effective orthodontics to treat misalignment issues without metal brackets and wires. By wearing a series of custom-made clear aligners, you can discreetly straighten your smile in about 12 to 18 months. The aligners are also removable, adding the convenience of easily keeping your teeth clean, as well as not having to limit any certain kinds of foods. Additionally, as long as you complete your treatment by wearing retainers for the recommended time, you can expect your straighter pearly whites to last the rest of your life!
How to Decide Which Option Is Best for You
Both treatments are wonderful options for misaligned teeth, but which one would be best for you? The answer will depend on what you and your dentist decide. The first step is to have a consultation where you share your dental needs and smile goals. They will give you a thorough examination to determine the extent of your orthodontic issues. Your dentist will provide recommendations based on certain factors like the severity of your misalignment, your lifestyle habits, and your budget.
If you are unhappy with your misaligned teeth, veneers and Invisalign are wonderful options to consider! With this helpful knowledge and a visit with your dentist, you will be one step closer to achieving the straighter, more beautiful smile you dream of.
About the Practice
Newton Corner Dental Care serves Newton and the surrounding areas through the expertise of Dr. Gretchen Anjomi and Dr. Maria Vargas. With the use of personalized plans and the latest dental technology, they can help you achieve and maintain the smile of your dreams! They are proud to offer a variety of orthodontic and cosmetic services, including veneers and Invisalign. To schedule a consultation, contact them through their website or call (617) 332-6232.