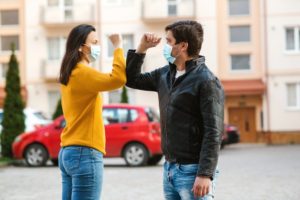 While your dentist was closed for all non-emergency patients during much of March and April due to COVID-19, the good news is that they are now open again for regular treatments like cleanings and fillings. As you first walk into their office, you notice that everyone is respectfully keeping their distance in order to avoid transmitting germs. Since you're an affectionate person who normally loves giving handshakes and hugs, this era of social distancing has been hard on you. Here are a few alternative ways you can greet and connect with your dental team in the time of COVID-19.
8 Friendly, Germ-Free Greetings to Help You Stay Connected
Some experts have posited that the days of introductory hugs, handshakes, and cheek kisses are long gone. As a result, we as a society may have to develop new, socially distant ways of greeting one another that remain after all this is over. Some of these new greetings might include:
The elbow bump
A foot tap
Air high-five
Air kisses
Smile and wave
A head nod
Namaste/ prayer hands
The "live long and prosper" hand sign
Additional Best Practices for Dental Safety
Now that we have gone over creative ways to greet your dental staff, it's important that we discuss dental safety best practices going forward. Here are a few guidelines to follow:
Call before your appointment. Much of your dentist's normal practices have changed since your last visit. It's safe to go ahead and call ahead of time and ask about any guidelines you should adhere to before your appointment.
Practice social distancing with other patients. Whether you're seeing your dentist for a routine checkup or a severe dental emergency, you're inevitably going to come within six feet of them. However, you can still do your part to maintain a good distance between you and the other patients. It helps to wait in your car until your appointment time instead of the waiting room, and wash your hands throughout your visit.
Prioritize preventive care. Good oral hygiene is more important now than ever before. Brush and floss every day. In addition, be sure to rinse your mouth out with an antimicrobial mouthwash to rid your mouth of germs that your toothbrush and floss can't reach. Lastly, visit your dentist for a checkup and cleanings every six months. These practices can save you from developing a dental emergency like a seriously painful toothache.
In these uncertain times, even a routine trip to the dentist's office can be seen as an exciting outing. Just remember to connect with your dental team using some socially distant, handshake-free greetings like the ones listed above.
About the Author
Dr. Gretchen Anjomi is a dentist in Newton, MA who earned her Doctor of Dental Medicine degree over twenty years ago at Tufts University School of Dental Medicine. She is a member of the American Dental Association as well as the Massachusetts Dental Association. Her practice takes great care to be as safe and clean as possible during COVID-19. To learn more about the safety precautions she and her team take, you can visit her website.